Get Started Today
Self Serve, Bring Your Own Doctor (BYOD) Platform Access
Extend the power of the Medplace platform to your current panel of experts and streamline your case review and peer review processes. Cut review times in half and reduce your claims team's overhead costs by up to 90 percent.
Schedule a Demo: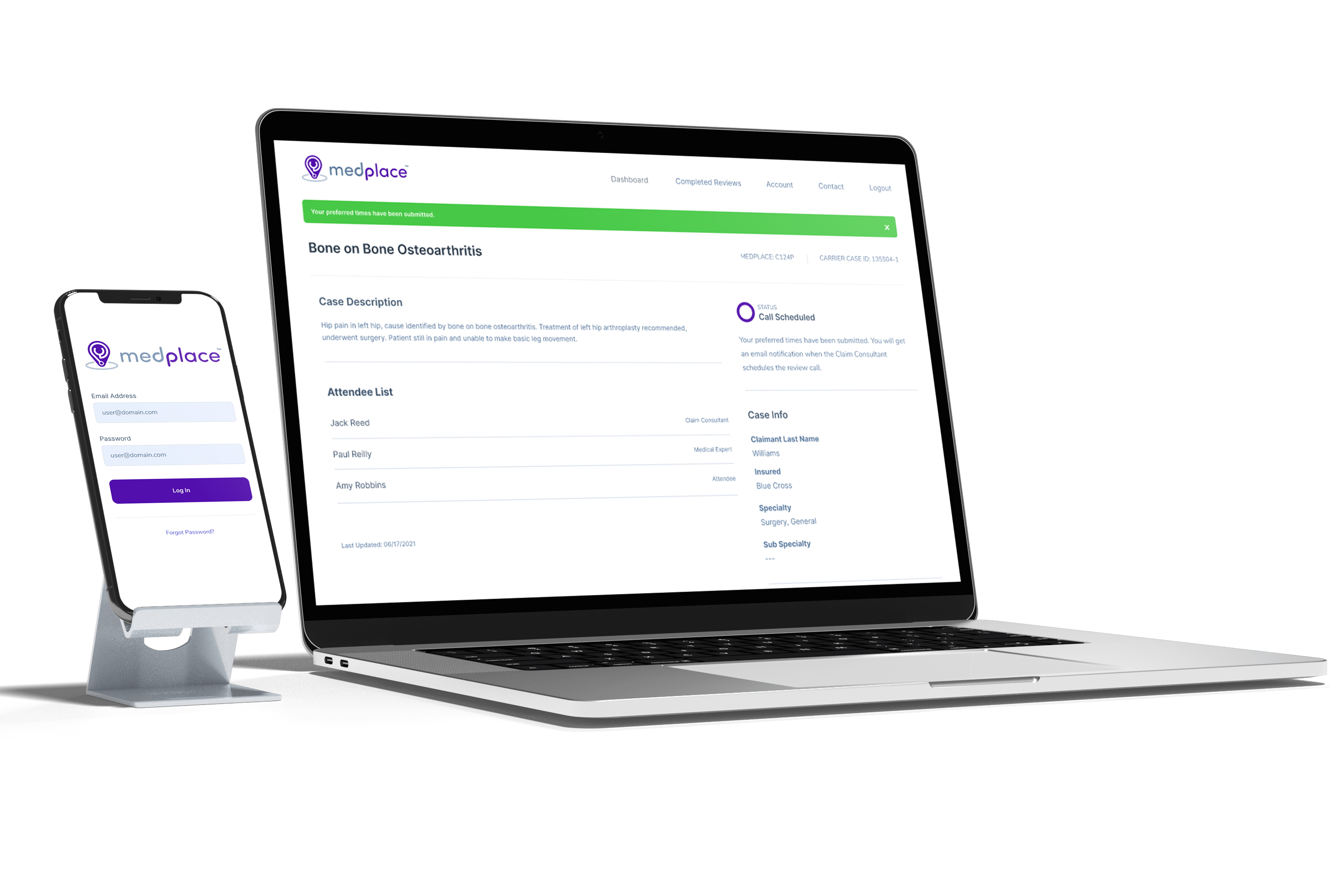 TESTIMONIALS
What our customers say
"I use Medplace daily. I keep a Medplace tab open on my browser because I actively monitor my expert matches, coordinate review calls with my experts, and use that guidance to close cases quickly. The difference between using Medplace and a conventional expert review process is that Medplace takes care of the hard work. They find, qualify, and provide efficient tools to coordinate with the experts. It's a very efficient process."
"With Medplace, I get a review back within 30 days, if not within ten days. And that's been really, really nice to help streamline our process. The experts are great and provide high-quality reviews, and I use those reviews to negotiate reasonable pre-suit settlements or use the guidance for settlement denials. It's worked well for my clients and me. I can't say enough great things about Medplace!"
"Medplace is an essential part of our risk mitigation strategy. As an MPL insurer, we use them early and often to transform a previously time-consuming, cumbersome process. They help us match with experts, engage the defense counsel, locate and organize records, securely share the records, and coordinate a meeting with all the case stakeholders. Medplace has perfected the efficiency, cost-effectiveness, and high-quality reviews that organizations need. I highly recommend using Medplace."
"Thanks to Medplace, we're closing claims faster, getting resolutions faster, and where appropriate we're settling cases for a reasonable amount with minimal litigation expenses. Our reinsurance clients are even using Medplace to win new business!"
TESTIMONIALS
What our experts say
"The mission and values expressed to me about Medplace were the reason I joined, and the fact that those things are true is why I stay."
"Medplace makes it easy and enjoyable to work with claim consultants and attorneys. I look forward to receiving future cases on Medplace."
"I really love this work. I hope to get case reviews and additional opportunities for the rest of my career."
"Medplace provides experts the opportunity to push medicine forward. Through Medplace, you can improve care, educate providers, hospital systems, claim consultants, and yourself.
What is BYOD?
Bring your own doctor, or BYOD is a new Medplace offering for MPL insurers, Hospital Systems, TPAs, Law Firms, and more. With BYOD, you can use your own network of experts, delighting them with a better experience, all while benefitting from the efficiency and convenience of the Medplace platform.
How much does it cost?
For companies who sign up now during the beta period, there is no setup or access fee. You pay $100 per case plus any fees for additional optional services like record retrieval or record organization.
Can I still use Medplace experts?
Of course! You can always match with Medplace experts for any case. Using Medplace experts is helpful if you have gaps in your panel, have unavailable or unresponsive reviewers, or use particular panelists too often and want to broaden your base of opinions.
See the Medplace Platform